Welcome to All 'Bout Cheese
London's Premier Artisan Cheese Shoppe
All 'Bout Cheese is incredibly proud to support Paralympic Hopeful Emily Trepanier
in her bid to join the 2018 Canadian Paralympic Team.
We hope that you will join us in supporting her as well
by donating through her Team Starfish GoFundMe Page


Located in London's Old East Food District, right across from the Western Fair Farmers Market. All 'Bout Cheese offers a wide selection of gourmet cheeses to satisfy the most discerning of pallets.
Our philosophy is simple. We believe in offering top quality products and exceptional customer service at affordable prices. It's the way that good business is supposed to be.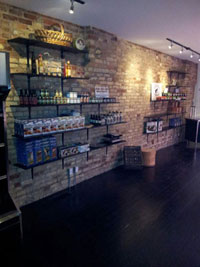 All 'Bout Cheese specializes in local cheeses from producers who draw upon decades of craftsmanship to bring the highest quality products to your table. We also carry a fine selection of sauces, jellies, crackers and olives to compliment any spread.
In addition to a wide selection of delicious cheeses, All 'Bout Cheese offers gourmet grilled cheese sandwiches daily, and is proud to announce London's First Cheese Smoothie, the '57 Chevre.
Come visit us at storefront location, 898 Dundas Street E.
or
At the Western Fair Farmers Market, 900 King Street.